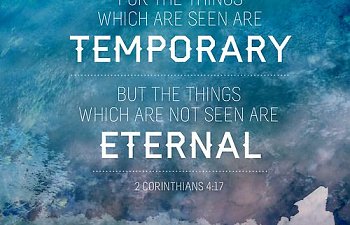 Ephesians 2:17-19 - "And He came and preached peace to you who were far away, and peace to those who were near; for through Him we both have our access in one Spirit to the Father. So then you are no longer strangers and aliens, but you are fellow citizens with the saints, and are of God's household."
IN
2 CORINTHIANS 13:5
WE ARE EXHORTED TO "TEST YOURSELVES TO SEE IF YOU ARE IN THE FAITH; EXAMINE YOURSELVES!"
ONE OF THE PRIMARY TESTS OF WHETHER WE ARE CONTINUING ON THE PATH OF LIFE IS BY THE PEACE IN OUR LIFE. JESUS IS THE PRINCE OF PEACE, AND IF WE ARE WALKING CLOSE TO HIM THERE WILL BE A PEACE IN OUR LIFE THAT EXCEEDS ANYTHING THAT CAN BE KNOWN IN THIS WORLD WITHOUT HIM.
Things for Me to Consider:
IF THERE IS LACK OF PEACE IN MY LIFE, THEN I HAVE DRIFTED FROM HIM.
WHAT HAS COME INTO MY LIFE THAT HAS BEGUN TO ECLIPSE MY RELATIONSHIP WITH HIM?
2 Corinthians 5:6-8 - "We realize that being "at home" in the body means that to some extent we are "away" from the Lord, for we have to live by trusting Him without seeing Him. We are so sure of this that we would really rather be "away" from the body and be "at home" with the Lord."
Things for Me to Consider:
AM I MORE COMFORTABLE WALKING BY FAITH THAN BY WHAT I SEE?
AM I BECOMING MORE AT HOME IN THE HEAVENLY REALM THAN IN THE NATURAL?
WHERE IS MY HOME?
WHEN I THINK OF HOME, WHERE DO I THINK OF FIRST?
2 Corinthians 4:18 -- "While we do not look at the things which are seen, but at the things which are not seen. For the things which are seen are temporary, but the things which are not seen are eternal."
We have two sets of ears and two sets of eyes. We have the "NATURAL SET" that we are born with, and we have a "SPIRITUAL SET" that is activated when we are born again.
As we grow spiritually, we begin to see with our spiritual eyes and hear with our spiritual ears.
John 5:19 -
"Most assuredly, I say to you, the Son can do nothing of Himself, but what He sees the Father do; for whatever He does, the Son also does in like manner.
ALBERT FINCH MINISTRY
http://afministry.ning.com