"If you have raced with men on foot and they have worn you out, how can you compete with horses? If you stumble in safe country, how will you manage in the thickets by the Jordan?" - Jeremiah 12:5 NIV
Have you been stumbling? Have you been stumbling with the footmen? Well the Lord is wanting to upgrade you to the horses. It's time for you to compete with the horses! The Lord is moving you up from running with the footmen to now racing with the horses.
God is about to bring you up to the next level of things. He's bringing you to a whole new ball game. He is bringing you to a new tier.
RUNNING WITH THE HORSES
You will be moved from running with the men to running with the horses. You will move from the natural to the supernatural. You will go from the first heavens to the third. You are being promoted.
Discouragement is fleeing from you. Sadness is leaving you. The disappointments and the depressing lies of the devil are being extinguished. The Holy Spirit is strengthening you with fresh revelation and you will now move forth in the spirit of power and might! It's time for you to ride on with the Rider on the white horse. Get renewed and get refreshed, for the Lord is about to accelerate you into the best season of your life!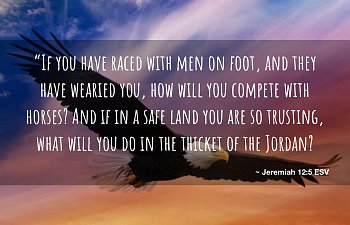 ALBERT FINCH MINISTRY
http://afministry.ning.com