Mar 10, 2011
2,990
2,699
113
51
Faith

Christian
Country

United States
House Speaker Nancy Pelosi (D-Calif.) on Thursday said Congress may move to impeach President Donald Trump if Vice President Mike Pence and Trump's cabinet don't move to remove him.
"If the vice president and the cabinet do not act the Congress may be prepared to move forward with impeachment," Pelosi told reporters in Washington.
Trump has just 13 days left in his first term. President-elect Joe Biden is set to be inaugurated on Jan. 20.
Pelosi said she hoped Pence would move to remove Trump, using the 25th Amendment, "today."
"It's a simple matter in terms of the Constitution, the vice president working with the cabinet, can immediately improve the security of our country," she said.
Pence's office and the White House didn't return requests for comment.
Pelosi acknowledged little time remains before Biden takes office but said removal is warranted via the amendment when a president is determined unfit to serve, for whatever reason, and Trump "clearly has indicated that, over and over again."
"While there's only 13 days left, any day can be a horror show for America," she added.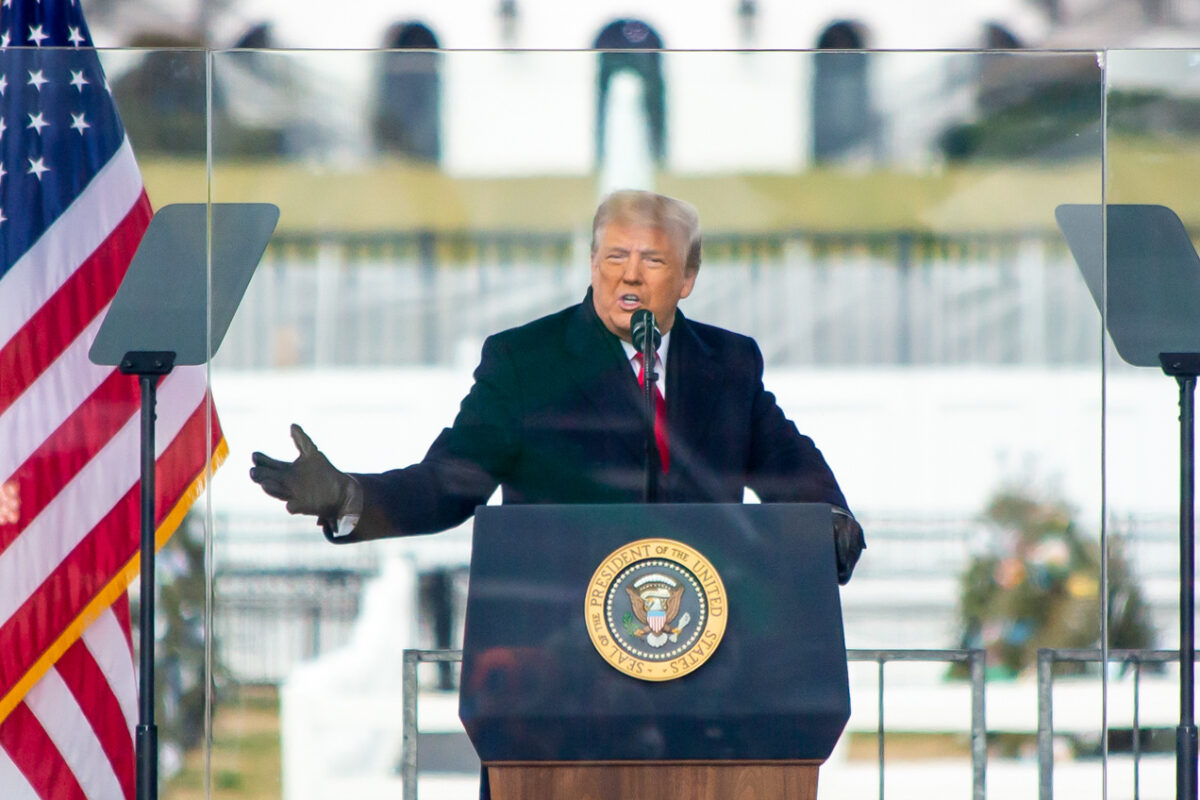 President Donald Trump speaks during a rally protesting the Electoral College certification of Joe Biden, in Washington on Jan. 6, 2021. (Lisa Fan/The Epoch Times)
The 25th Amendment says the vice president and a majority of a president's cabinet "may by law provide, transmit to the President pro tempore of the Senate and the Speaker of the House of Representatives their written declaration that the President is unable to discharge the powers and duties of his office."
In that case, the vice president would then "immediately assume the powers and duties of the office as Acting President."
Pelosi, one of the oldest members in the House, erroneously said during the briefing that William Barr is still the attorney general. Barr resigned last month and left office on Dec. 23.
A score of other Democrats, including Senate Minority Leader Chuck Schumer (D-N.Y.), also called for Trump's removal. They blame him for the protesters' storming of the Capitol, claiming that he incited violence, despite that the president called on his supporters to be peaceful and to respect law enforcement.
"What happened at the U.S. Capitol yesterday was an insurrection against the United States, incited by President Trump. This president must not hold office one day longer," Schumer said in a statement.
"The quickest and most effective way—it can be done today—to remove this president from office would be for the Vice President to immediately invoke the 25th amendment. If the Vice President and the Cabinet refuse to stand up, Congress must reconvene to impeach President Trump."
But Senate Judiciary Chairman Lindsey Graham (R-S.C.) said he doesn't support removing Trump from office.
"I do not believe that's appropriate at this point. I'm looking for a peaceful transfer. I'm looking for the next 14 days to reset, and we will hand off power in a traditional sense," he told reporters in a briefing on Capitol Hill.
Graham said he spoke with White House chief of staff Mark Meadows earlier Thursday, and that Meadows said the transition is going well.
Trump was impeached by the House of Representatives on Jan. 16, 2020. But the Senate later acquitted him of the charges, with all Republicans voting to acquit save for Sen. Mitt Romney (R-Utah.).
Two other presidents in history have been impeached, but none have been convicted. Some believe President Richard Nixon, a Republican, would have been impeached and removed from office if he didn't resign in 1974 over Watergate.
Democrats hold a slim majority in the House while Republicans have a 50-49 majority in the Senate. The results of the two Georgia Senate runoff races are pending, but Democratic candidates appear to have won both, which would shift the body to a 50-50 tie.
Pelosi Suggests Impeachment If Pence, Cabinet Doesn't Remove Trump With 25th Amendment